Nanophotonic light trapping for thin-film solar cells
Liquid phase crystallized (LPC) silicon thin-film solar cells are a promising novel approach with a current efficiency record of 14.2% [1]. The LPC process is performed on a nanocrystalline Si layer on an interlayer stack on glass. The high refractive index of crystalline silicon requires anti-reflective measures to maximize in-coupling of light from the glass superstrate into the c-Si absorber. Ideally, these nanotextures also scatter the incident light in order to trap more light in the absorber – especially at long wavelengths. Light trapping is of special importance here because the absorber in LPC-Si solar cells is only 5 – 20 µm thick. Nanotextures for light management at the glass-Si interface can only be placed prior to the LPC process. Hence, they must be smooth in order to ensure LPC-Si with a high electronic quality.
Our group currently is investigating two types of nanostructures situated between glass and LPC-Si: (1) sinusoidal nanotextures [2,3] and (2) smooth anti-reflective three-dimensional textures (SMART) [4]. Both textures are fabricated with nanoimprint lithography and enhance the optical performance of the solar cells. LPC-Si solar cells on these textures have excellent material qualities and hence electric properties, such that open circuit voltages exceeding 615 mV or even 640 mV are measured for sinusoidal or SMART structures, respectively. Numerical results obtained with the finite element method (FEM) match well with experimental data [5]. This was achieved with a numerical correction, which is applied to FEM results a posteriori and allows to adequately take the thick glass superstrate into account at negligible numerical cost.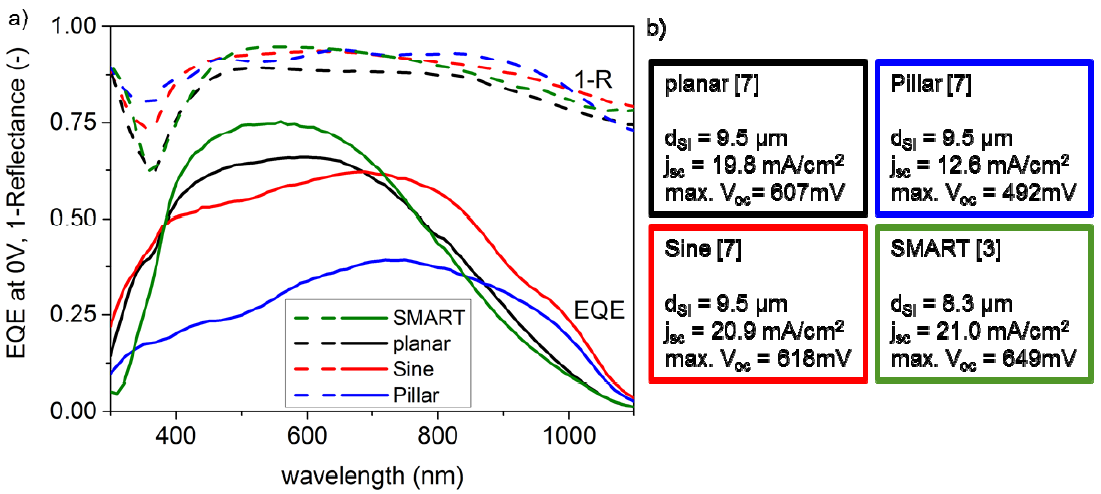 (a) External quantum efficiency (EQE, solid lines) and 1-Reflectance (1-R, dashed lines) data of SMART (green), sinusoidal (red), and pillar (blue) textured LPC silicon thin-film solar cells compared to a planar reference device (black) [2,4]. (b) Corresponding maximum obtained solar cell parameters measured by EQE (jsc ) and Suns-Voc (Voc).