UE56-1_ZPM
Soft X-ray fs-to-ps pulsed undulator radiation variable polarization with Zone Plate Mono for FEMTOS

Optical layout (left) of the high transmission (T ~ 0.2) ZPM beamline after the upgrade in 2012. In order to select a certain lens (image) and energy range, the optical element (RZP array, yellow) is moved perpendicular to the optical axis driven by a stepping motor. A special laser feed-in (orange) is an inherent part of the approach enabling pump-probe experiments with variable pump wavelength from UV to FIR at large numerical aperture. The red images above the right picture show the intensity distributions in the focus after each lens.
Station data
Temperature range
Pressure Range
Weitere Details
FEMTOSPEX-DynaMax
Beamline data
Segment
H11
Location (Pillar)
12.2
Source
UE56-1 slicing (Elliptical Undulator)
Monochromator
Reflection Zone Plate Arrray (RZPA)
Energy range
410 - 1330 eV
Energy resolution
500/2000
Flux
1·106ph/sec/0.1%BW@6kHz (100 fs pulses)
Polarisation
variable
Divergence horizontal
0.2 mrad
Divergence vertical
0.1 mrad
Focus size (hor. x vert.)
140µmx40µm(slit) (hxv)
User endstation
no
Distance Focus/last valve
800 mm
Height Focus/floor level
1763 mm
Beam availability
12h/d
Phone
--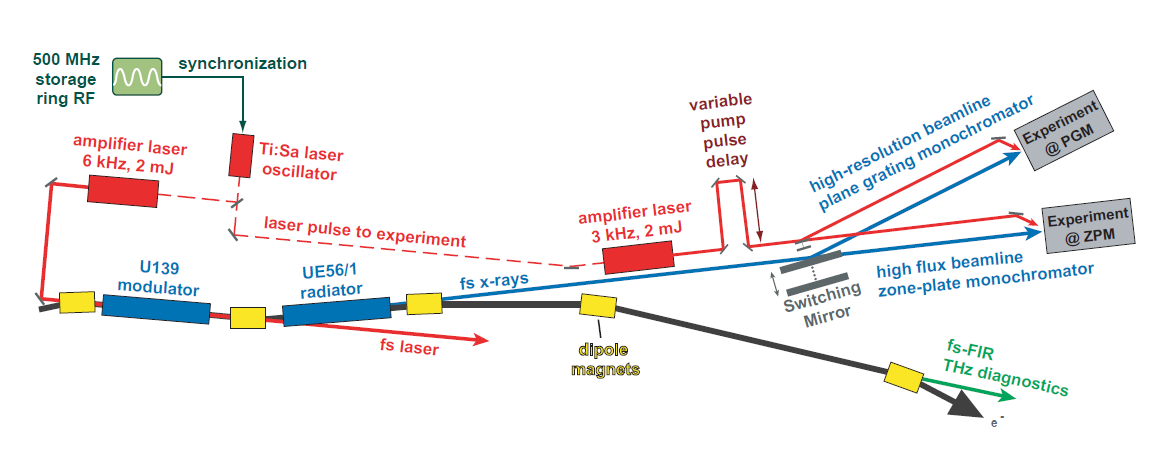 Schematic layout of the full optical pump-soft-x-ray probe setup at the FemtoSpeX facility after the laser (red boxes) and repetition rate upgrade. The horizontal dimension of the setup is ca. 50 m.

Artists view how we generate 100 fs soft X-ray pulses by Femtoslicing
The ZPM-monochromator was particularly designed and commissioned according to user requirements to support optical-pump- soft x-ray probe experiments at the FemtoSpex facility at the UE56-1. Owing to the principles of generating 100 fs x-ray pulses from a storage ring [1] one needs optics of highest possible transmission up to 21%. A successful approach has been a single element monochromator based on Reflection Zone Plates [2]. The current design as depicted in Figure 1 (right) consists of 9 lenses that enable a working range from 410 to 1333 eV at moderate spectral resolutions of E/DE= 500 or, in one case E/DE = 2000, at 713 eV. The optics is tailored to minimize pulse elongations to 30 fs preserving the polarization properties of the elliptical light from the undulator.
References / Latest Publications
[1] Khan, S., Holldack, K., Kachel, T., Mitzner, R. & Quast, T., Phys. Rev. Lett. 97, 074801 (2006).
[2] Brzhezinskaya, M, et al. Journal of Synchrotron Radiation 20, 522-530 (2013).
[3] Stamm, C. et al., Nature Materials 6, 740–743 (2007).
[4] Boeglin, C. et al., Nature 465, 458–462 (2010).
[5] Wietstruk, M. et al., Phys. Rev. Lett. 106, 127401 (2011).
[6] Radu, I. et al., Nature 472, 205–209 (2011).
[7] Eschenlohr, A. et al., Nature Materials 12, 332–336 (2013).
[8] Bergerard, N. et al. Nature Communications, 5, 3466, doi:10.1038/ncomms4466.