7T-MPW-EDDI
7T-MPW-EDDI
The beamline is operated in the energy-dispersive mode of diffraction using the direct white photon beam provided by a superconducting 7T multipole wiggler. The wigglers critical energy is 13.5 keV at 1.7 GeV. The figure below shows its energy spectrum recorded directly without any attenuators in the beam by means of a Germanium solid state detector (Canberra).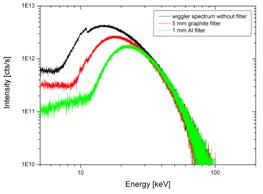 wiggler spectrum recorded at the EDDI beamline
List of publications
Beamline data
Segment
L04
Location (Pillar)
5.2
Source
7T-MPW (Multipole Wiggler)
Monochromator
direct beam (white beam)
Energy range
5 - 150 keV
Energy resolution
Ge solid state detector (Canberra):
160 eV (at 10 keV) and 420 eV (at 100 keV)
Flux
3·1012 (at 10 keV) and 1·1010 (at 100 keV)
(photons/s at 300 mA through a pinhole of 1x1mm2)
Polarisation
horizontal
Divergence horizontal
± 1.2 mrad
Divergence vertical
± 0.5mrad
with a double slit system (30μm) Δθ ≈ 0.003° mrad
Focus size (hor. x vert.)
focussed beam not possible
beam cross-section: max. 4 x 4 mm2, usually 0.5-1 mm2
Fixed endstation
EDDI

Flexible endstation(s)
no
User endstation
not possible
Distance Focus/last valve
focussed beam not possible
distance sample/last valve: 6000 mm
Height Focus/floor level
1400 mm
Beam availability
24h/d
Phone
+49 30 8062 13164
A detailed beamline and experimental endstation description and a list of publications can be found here.