40 kindergarten kids jointed the School Lab on Little Scientists' Day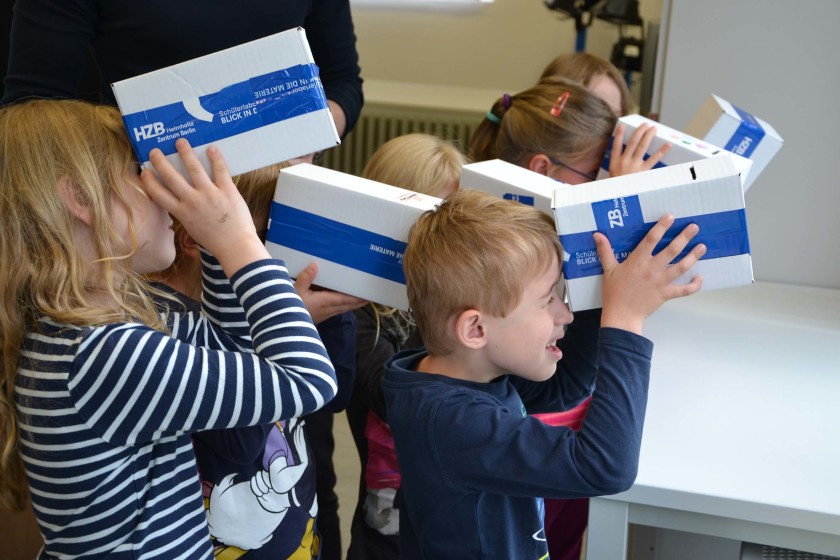 Watching the sky: The kindergarten Kids built spectroscopes and used them to study the different kinds of light.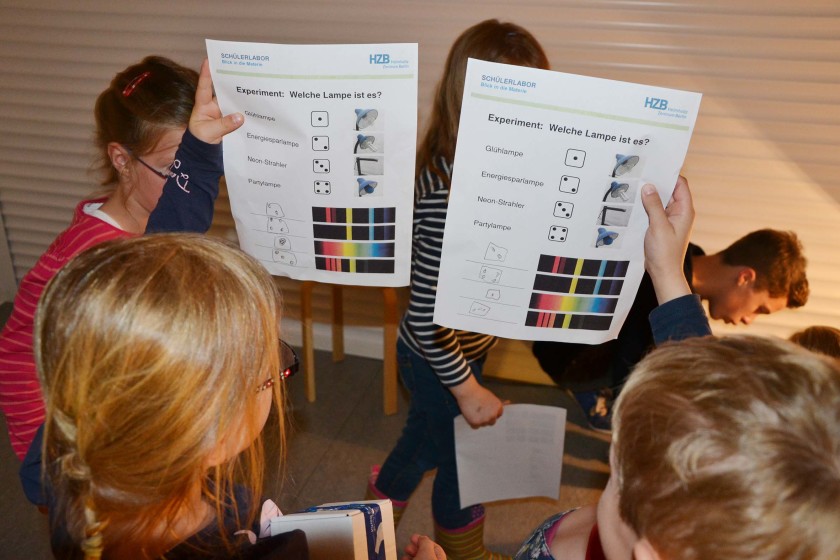 Young guests visiting the School Lab of the Helmholtz-Zentrum Berlin is nothing unusual. But on the 23rd of June 2015, even the tiniest were allowed to get into the role of researcher and conduct their own experiments. The School Lab took part in the Germany-wide campaign "Tag der Kleinen Forscher" (Little Scientists' Day), and invited 40 children of ages five to seven to the Adlershof campus. Here, they built spectroscopes and used them to study the different kinds of light. After a good hour of intensive experimenting, each child proudly held his or her "researcher's diploma" in hand.
Fold boxes and off you go. The kids were given cardboard boxes with a small slit in the top. Into this box, they glued a fragment of a CD. Using these cardboard spectroscopes, the children studied different light sources in turn: an incandescent bulb, a neon lamp and an energy-saving lamp. They observed that, depending on which lamp they had in front of them, different colours of light would reflect back each time in the spectroscopes. "We wanted to playfully show the kids that not all light is equal – and that, with their own DIY instruments, they can discover differences that can't be seen with the naked eye," says Dr. Ulrike Witte, head of the School Lab. They hosted the special day together with physics students Felix Kramer and Max Nowottnick as well as student intern Kilian Grapentin.
This is the first time the School Lab has participated in "Little Scientists' Day". It started in 2009 and is held once a year as a chance to take kids of preschool and primary school age on a journey of discovery and to explore technical and scientific topics. "It was a great event and was a lot of fun for all," Witte recounts.
The Germany-wide campaign was initiated by the non-profit foundation "Haus der kleinen Forscher" (Little Scientists' House), which is supported among others by the Helmholtz Association. Since 2006, the foundation has worked to encourage better education of boys and girls of preschool and primary school age in the natural sciences, mathematics and technology.