8th European Crystallography School 2023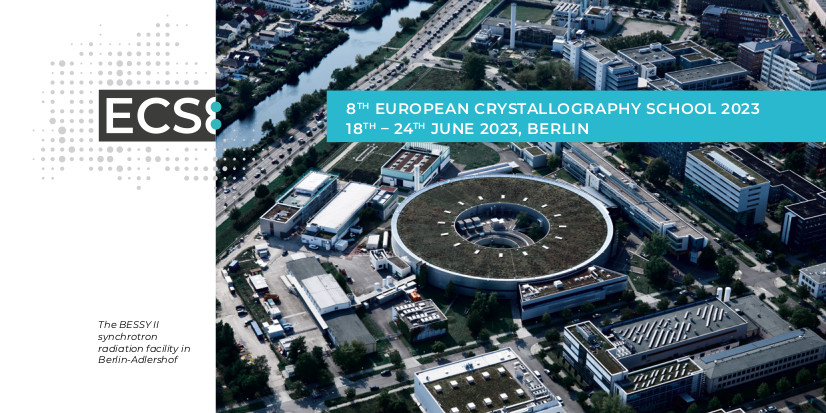 Date: 18th - 24th June 2023

ECS8, the 2023 European Crystallographic School is planned as an in presence event at the moment.
The school will be held in Berlin, at the site of the BESSY II electron storage ring operated by the Helmholtz-Zentrum Berlin.
The focus of the 2023 School will be laid upon the various applications of X-ray crystallography of powders, small molecules and proteins, covering from the fundaments of Diffraction to the latest developments in the fields.
The school will be directed to undergraduate, graduate, postgraduate and young scientists from different fields (biology, biochemistry, chemistry, material science, physics, etc.) who are eager to learn more about the possibilities of crystallography.
Fundamental lectures will be taught during the mornings. Afternoons will be dedicated to lectures on applications and hands-on tutorials.
Registration Fees and further information
Registration Fees

Early Bird until 23rd April

Late until 14th May


Regular Student

590 €

690 €

Regular Student w

ithout

Hotel

300 €
350 €
Regular Senior
690 €
790 €

Regular Senior without Hotel

390 €
450 €
Students means BSc., MSc, PhDs and Seniors means Postdocs or higher.
The normal fee will include a hotel room for 5 nights incl. breakfast close to the event location (only from Sunday until Friday because the Excursion on Saturday is optional and not part of the official school program), catering (coffee and lunch breaks), school material and access to all talks and practicals/demos. The fee "without hotel" includes everything like the normal fee except the hotel room, here you have to book and pay your own hotel room.
We can offer Young scientist/travel supports for young scientists from the IUCr, ECA and DGK. Also the AIC supports a Young Scientist (AIC Member) by paying the registration fee and the HZB supports an applicant from Nigeria by covering the registration fee and travel costs. How you can apply for this, you will find at the registration form which will be going online on 5th April 2023.
Policies
Statement on Gender Balance at ECS8

The ECS8 Organizing Committee fully supports and promotes gender equality in accordance with the IUCr policy https://www.iucr.org/iucr/principles-and-policies/gender-balance. We will ensure gender equality in our committees (including the Organizing Committee itself), among our lecturers and participants and pay special attention to the gender balance in evaluating bursary applications. In accordance with IUCr policy, our gender statistics will be find here when we have choose the participants.

For further information, our gender equity and diversity advisor is Priv.-Doz. Dr. Franziska Emmerling.

Further information can be found on the web site of IUCR's Gender Equity and Diversity Committee GEDC (https://www.iucr.org/iucr/governance/advisory-committees/gedc). This page contains a code of conduct, a GEDC conference speaker statement and a toolkit for conference organisers.

Scientific Freedom Policy Statement
The Organizing Committee of ECS8 shall observe the basic policy of non-discrimination and affirms the right and freedom of scientists to associate in international scientific activity without regard to such factors as ethnic origin, religion, citizenship, language, political stance, gender, sex or age, in accordance with the Statutes of the International Council for Science. At ECS8 no barriers will exist which would prevent the participation of bona fide scientists.

Diversity, Equality and Inclusion Statement
We welcome all crystallographers and scientists working in related fields, regardless of their ethnic origin, race, citizenship, language, political views, gender, sex, sexual preferences, physical disabilities and age. We strive to create a culture of diversity, equality and inclusion.