Venue and Accommodation
Venue
The ISSE School 2019 takes place from the 27th October - 1st of November, 2019, at the the Lise-Meitner-Campus, Berlin-Wannsee and at the Wilhelm-Conrad-Röntgen-Campus, Berlin-Adlershof / Helmholtz-Zentrum Berlin für Materialien und Energie GmbH.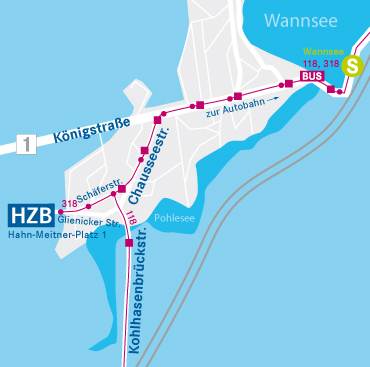 Hahn-Meitner-Platz 1 (formerly Glienicker Str. 100)
14109 Berlin (Wannsee)
Fon +49 30 8062 - 0
Fax +49 30 8062 - 42181
Accommodation
We pre-reserved a contingent of single and double rooms for the participants at the HZB guest house on campus Wannsee. If you would like to book a room please contact sandra.fischer@helmholtz-berlin.de. The booking fee is 30 Euro per night for a single room, 40 Euro for a double room (+10 Euro cleaning fee).