Proton Therapy
How does proton therapy work?
The use of protons or heavy ions in radiotherapy demonstrates clear advantages compared to clinically available irradiation techniques. Both protons and heavy ions show an "inverse" depth dose distribution, i.e. the dose applied to the irradiated tissue increases with depth and vanishes behind a steep maximum, the so-called Bragg-peak. The position of the Bragg-peak can be adjusted precisely varying the proton energy.
In addition, the lateral scattering area of proton beams is much smaller than the penumbra of conventional X-ray or electron beams. Thus the irradiation dose applied with protons can be concentrated on the tumour, allowing a better sparing of healthy tissue and organs at risk.
Here you can find some details about the properties of proton beams: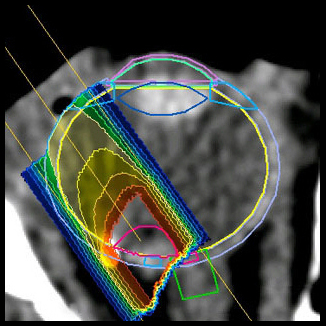 Display of the proton dose distribution. High-resolution imaging like computer tomography of the eye is useful for dose visualisation in proton therapy. The yellow lines superimposed on the image illustrate the borders of the irradiation field. Coloured areas indicate the dose distribution, the highest magnitude of which is closely surrounding the tumour (red dome).