13.12.2011
HZB entitled to carry the certificate "Job and Family" from the non-profit Hertie Foundation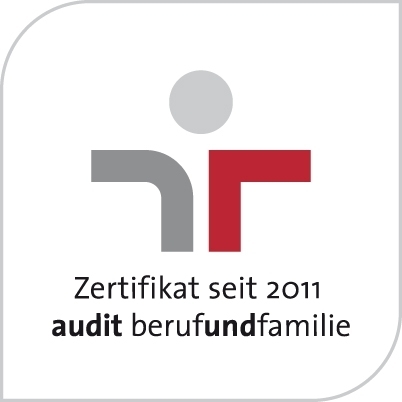 HZB intends to become more family-friendly and help employees balance work and family. Since May 2011, HZB has been under the scrutiny of the "Job and Family" audit of the non-profit Hertie Foundation. External advisors have been accompanying the process, working with those involved in-house to find solutions to permanently improve family friendliness. Once management agreed on objectives, the Foundation issued the "Job and Family" certificate at the beginning of December. HZB is now entitled to carry this certificate and include the logo on job ads, on the website or on brochures, for example.
HZB has until 2014 to implement the agreed measures. After that, the auditors will review the family friendliness and evaluate whether the objectives have been achieved. Incidentally: the measures will also benefit all employees who care for relatives at home.

The certificate will be publicly issued in June 2012 by the patrons, Federal Minister for Family Affairs Dr. Kristina Schröder and Federal Minister of Economics Dr. Philipp Rösler.

You can take a look at the agreed objectives and measures in the "strategic personnel plan" on the Intranet site.
RSS News Feed