UE46_PGM-1
UE46_PGM-1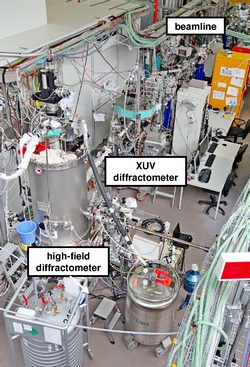 UE46-PGM1 beamline and endstations.
Beamline data
Segment
L10
Location (Pillar)
11.2
Source
UE46 (Elliptical Undulator)
Monochromator
PGM
Energy range
120 - 2000 eV
Energy resolution
10,000
Flux
1012
Polarisation
• linear any angle (with restrictions)
• circular
Divergence horizontal
1 mrad
Divergence vertical
1 mrad
Focus size (hor. x vert.)
• focussed beam:
typically 100µmx50µm
ultimate:40µmx10µm
• collimated beam:
≤ 1.7mmx1.5mm (depending on apertures)
User endstation
not possible
Distance Focus/last valve
565 mm
Height Focus/floor level
1417 mm
Beam availability
12h/d
Phone
+49 30 8062 14717
Applicable station(s)
XUV Diffractometer
3.8 - 320 K ( for T = 3.0 K contact Station Managers)
High-Field Diffractometer
4 - 350 K
UE46_PGM-1 is one of two beamlines situated at the elliptical undulator UE46. The beamline provides soft x-rays with tunable polarization (linear, circular) in the energy range between 120 eV and 2000 eV. It has a plane-grating design, the last mirror chamber hosts two mirrors that can be switched to provide a focussed or collimated beam. Techniques employed at UE46_PGM-1 include polarization-dependent x-ray absorption and resonant soft x-ray scattering experiments, covering a wide range of materials and scientific problems. Continuous-mode scanning is implemented at the beamline, a pair of energy-dependent x-ray absorption scans with opposite light helicities can be recorded with very high quality within less than 10 minutes. Depending on the sample, noise ratios as low as 10-4 can be achieved. The beamline hosts two permanent endstations, the XUV Diffractometer, an instrument dedicated to high performance RSXS studies and the High-Field Diffractometer, an instrument for RSXS and XAS studies in magnetic fields up to 7 Tesla. Both instruments can be used within the same beam time. Beamline and instruments are operated by the Institute Quantum Phenomena in Novel Materials at HZB.
Selected Applications
Resonant diffraction from magnetic, charge, and orbital order superstructures

Spectroscopy of electronic ordering phenomena

Magnetization states of single molecular magnets

Element-specific magnetic hysteresis loops

Magnetization depth profiles
Selected Publications
Bluschke, M.; Frano, A.; Schierle, E.; Minola, M.; Hepting, M.; Christiani, G.; Logvenov, G.; Weschke, E.; Benckiser, E.; Keimer, B.:

Transfer of Magnetic Order and Anisotropy through Epitaxial Integration of 3d and 4f Spin Systems.

Physical Review Letters 118 (2017), p. 207203/1-5
Sánchez-Barriga, J.

; Varykhalov, A.; Springholz, G.; Steiner, H.; Kirchschlager, R.; Bauer, G.; Caha, O.; Schierle, E.; Weschke, E.; Uenal, A. A.; Valencia, S.; Dunst, M.; Braun, J.; Ebert, H.; Minar, J.; Golias, E.; Yashina, L.V.; Ney, A.; Holy, V.; Rader, O.:

Nonmagnetic band gap at the Dirac point of the magnetic topological insulator (Bi1-xMnx)2Se3. Nature Communications 7 (2016), p. 10559/1-10
Frano, A.; Blanco-Canosa, S.; Schierle, E.; Lu, Y.; Wu, M.; Bluschke, M.; Minola, M.; Christiani, G.; Habermeier, H.U.; Logvenov, G.; Wang, Y.; van Aken, P.A.; Benckiser, E.; Weschke, E.; Le Tacon, M.;

Keimer, B.

:

Long-range charge-density-wave proximity effect at cuprate/manganate interfaces. Nature Materials 15 (2016), p. 831-835
Bernien, M.

; Naggert, H.; Arruda, L.M.; Kipgen, L.; Nickel, F.; Miguel, J.; Hermanns, C.F.; Krüger, A.; Krüger, D.; Schierle, E.; Weschke, E.; Tuczek, F.; Kuch, W.:

Highly Efficient Thermal and Light-Induced Spin-State Switching of an Fe(II) Complex in Direct Contact with a Solid Surface. ACS Nano 9 (2015), p. 8960-8966
Comin, R.; Frano, A.; Yee, M.M.; Yoshida, Y.; Eisaki, H.; Schierle, E.; Weschke, E.; Sutarto, R.; He, F.; Soumyanarayanan, A.; He, Y.; Le Tacon, M.; Elfimov, I.S.; Hoffman, J.E.; Sawatzky, G.A.; Keimer, B.; Damascelli, A.:

Charge Order Driven by Fermi-Arc Instability in Bi2Sr2-xLaxCuO6+δ. Science 343 (2014), p. 390-392