UE56-1_PGM
Soft X-ray fs-to-ps pulsed undulator radiation for FEMTOSPEX Surface Dynamics
Soft x-ray beamline for the FEMTOSPEX Surface Dynamics of time resolved Electron Spectroscopy for Chemical Analysis with vertical, horizontal and elliptical polarization covering the range of ~100 - 1400 eV with an x-ray spot size of approximately 80 µm (horizontal). This beamline is part of FemtoSpeX which allows to perform femtosecond time-resolved experiments using the slicing facility. One can also do picosecond measurements using the high resolution (1200l/mm) grating. An ultrafast laser system with OPA allows for excitation of the sample at various wavelengths.
Optical Layout of the Beamline
Station data
Temperature range
20 - 400 K
Pressure range
6 x 11-10 mbar up to 1 x 10-6 mbar
More details
FEMTOSPEX surface dynamics
Beamline data
Segment
H11
Location (Pillar)
12.2
Source
UE56-1 (Elliptical Undulator)
Monochromator
PGM
Energy range
60 - 1300 eV
Energy resolution
> 100,000 at 64 eV, > 20,000 at 400 eV
Flux
2.5·1011
Polarisation
• linear horizontal vertical
• circular
Divergence horizontal
0.8 mrad
Divergence vertical
0.35 mrad
Focus size (hor. x vert.)
85 µm (hor) x 15 µm (vert, dep. on exit slit)
User endstation
no
Distance Focus/last valve
1025 mm
Height Focus/floor level
1417 mm
Beam availability
12h/d
Phone
17980, 17981, 17982
Exit Slit
Fixed Slits of 600µm, 200µm, 100µm, 50µm and 20µm width
PPRE Bunch Mode
Quasi single bunch during multi bunch weeks available (at reduced intensity)
Pump Laser
Legend Elite Duo; COHERENT, Ti:Sa
Laser Repetition Rate
up to 6 kHz
Laser Wavelength
800 nm
Laser Power
up to 10 W
Pump Laser Delay
+/-2ns long optical delaystage; electronically in 12ns steps, manual phase shifter continiously
Available Harmonics / OPA
400nm with variable attenuation and polarization OPA covering the range from ~250 up to 10000nm and fixed attenuation using ND filters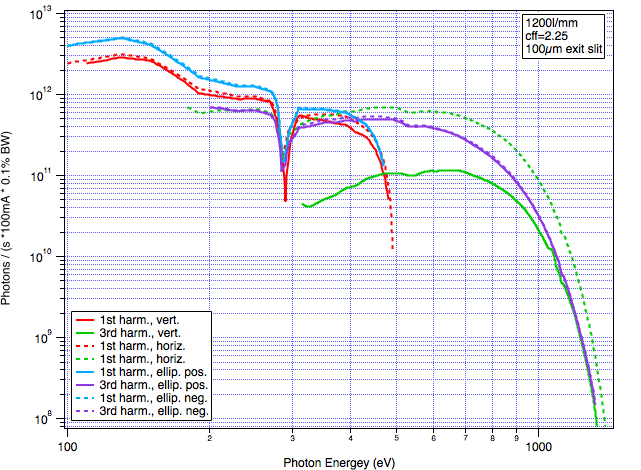 Flux curves for the 1200l/mm grating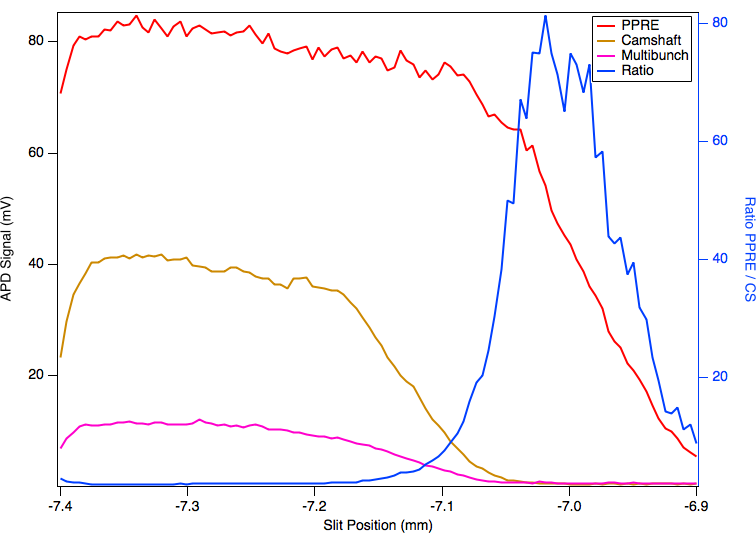 Exemplary separation of the PPRE bunch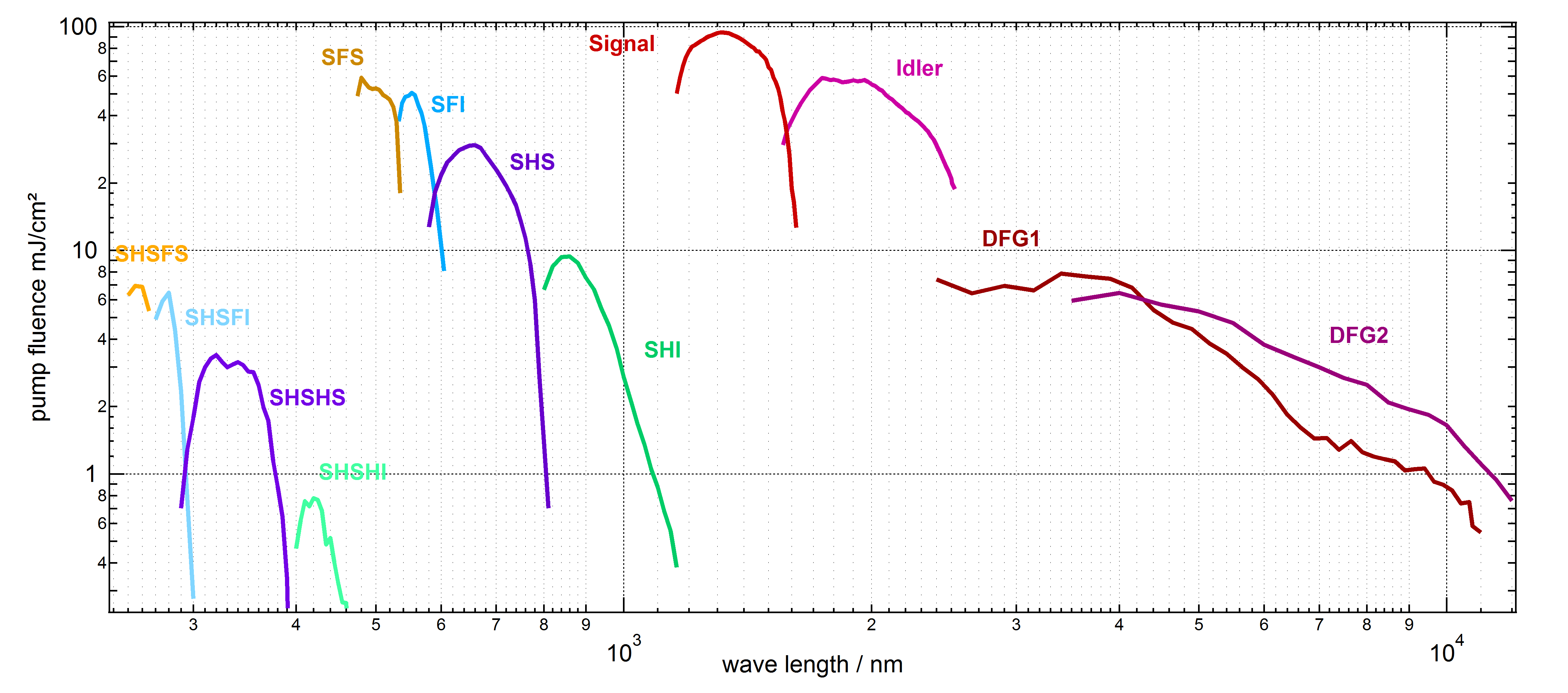 Wavelengths of the OPA
The pump laser system can run at up to 6kHz but also at reduced repetition rates of 3kHz and 1.5kHz. The system is delivering 800nm laser pulses of about 100fs length with a power of up to ~10W. For 800nm and the 2nd harmonic, i.e. 400nm, variabel attentuation and polarisation is available. For the tunable wavlengths created by the OPA (optical parametric amplifier) we can currently only offer fixed attenuations by using ND filters.