U41-TXM
U41-TXM
This high flux beamline with a plane grating monochromator was designed especially for X-ray microscopy endstations. It is dedicated to X-ray microscopy applications and hosts the HZB X-ray microscope as a fixed endstation.
The new designed PGM1 beamline for the TXM endstation at section L06 uses again the undulator U41 which was moved from section L12 to L06. User operation at this new beamline started with the 2017-II beamtime allocation period.
The optical design of the HZB full-field TXM (unchanged) at the new BESSY II undulator beamline U41-L06-PGM1 (section L06) allows high spectral resolution of up to E/ΔE = 10000, 25 nm (half-pitch) spatial resolution and field of views in the range of 10-15 µm. A plane grating monochromator with a 800 l/mm grating provides the necessary high photon flux and in addition an energy resolution high enough for NEXAFS applications. The X-ray condenser (ellipsoidal shaped capillary) illuminates the object while the high resolving zone plate objective forms the enlarged image onto the CCD.
Details about the TXM itself can be found in the list of stations under XM - X-ray microscopy.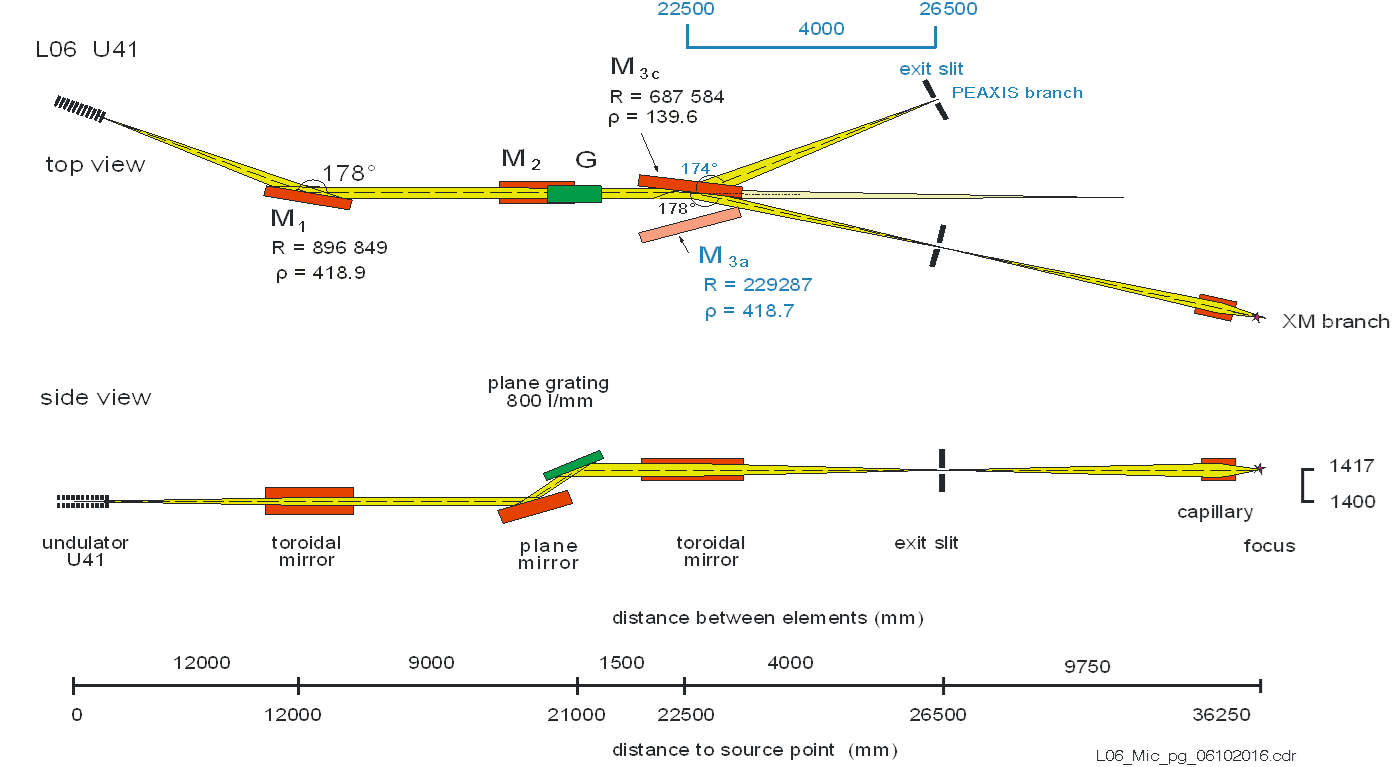 X-ray optical design of the new XM-beamline at section L06
Applicable station(s)
Beamline data
Segment
L06
Location (Pillar)
7.2
Source
U41 (planar undulator)
Monochromator
PGM1 equipped with a 800 l/mm (soft X-rays) & 2000 l/mm (tender X-rays)
Energy range
180 - 1800 eV (soft X-ray range) & 700 - 2800 eV (tender X-ray range)
Energy resolution
up to 10000
Flux
up to 4·1012 photons/sec @100 mA and 20 μm exit slit for cff = 2.25 directly after the exit slit
Polarisation
horizontal
Divergence horizontal
photon energy dependent: 0.2 - 0.1 mrad
Divergence vertical
photon energy dependent: 0.66 - 0.25 mrad
Focus size (hor. x vert.)
220 µm in exit slit
User endstation
not possible
Distance Focus/last valve
- focus at exit slit position - mm
Height Focus/floor level
1417 mm
Beam availability
12h/d
Phone
+49 30 8062 12110

View on the beamline and X-ray microscope (new location at L06)
Measured flux curve

Measured energy resolution (Nitrogen-K-edge) for 1st and 2nd grating diffraction order
Application
This is a dedicated beamline for X-ray microscopy allowing nano-tomography and nano-spectroscopy (NEXAFS).