Helmholtz-Zentrum Berlin successfully at international Photovoltaic Conference in Hamburg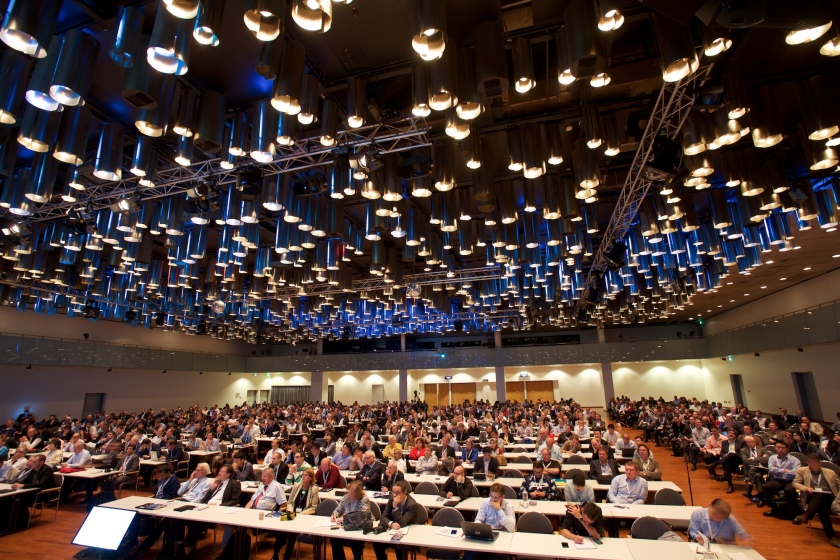 2.500 experts on photovoltaics from all over the world met at the 31th EU PVSEC in Hamburg. © Guglielmo de' Micheli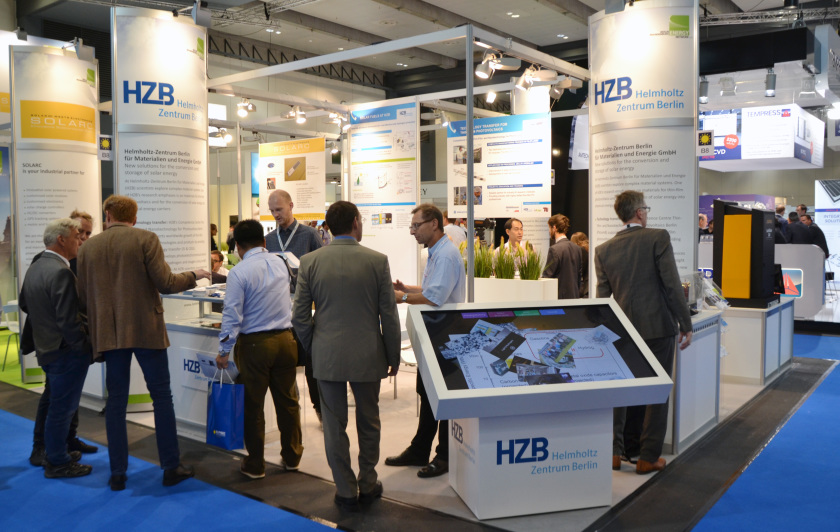 HZB was present at the 31th EU PVSEC with oral and poster presentations and in addition with an own booth at the exibition. © HZB
From 14. to 18. September more than 2.500 experts on photovoltaics from all over the world met at the 31th EU PVSEC in Hamburg to discuss the latest developments and innovations. HZB was present at the conference with oral and poster presentations and in addition with an booth at the exibition. A joint publication by the Competence Centre for Photovoltaics (PVcomB) and Institute for Silicon Photovoltaics was chosen from 1,300 contributions under the best TOP 20 of the conference.
The European Photovoltaic Solar Energy Conference and Exhibition (EU PVSEC) is one of the largest international conferences for photovoltaic research, technologies and applications. It is regarded as the world's leading platform for exchanges between the worlds of photovoltaic research and industry in the global photovoltaic solar industry sector. Over 2,500 experts from 77 countries met at the 31th EU PVSEC in Hamburg. More than half of the participants had been represented by research and development specialists and about 40 percent from the segment industry and engineering. 20 researchers from HZB have participated at the conference.
A HZB joint publication from PVcomB and Institute for Silicon Photovoltaics has been rated as one of the best current work in the field of photovoltaics submitted to the Conference. Dr. Onno Gabriel and co-authors were selected from more than 1,300 submissions for the TOP 20 of the 31th EU PVSEC with their publication "Crystalline Silicon on Glass: Interface Passivation and Its Impact on the Absorber Material Quality ". The authors of the 20 highest scored abstracts of the EU PVSEC 2015 are invited to submit a paper for publication in the renowned scientific journal Progress in Photovoltaics. The special edition will be available for free download for a year, a special feature of the not open access-publishing magazine.
Gabriel and his colleagues investigate the influence of new industrial processes to produce thin crystalline silicon layers directly on glass. This preparation method is developed at HZB for several years and promises high material and energy savings. The at HZB measured efficiency of 12.1% is currently the world record for this solar cell technology.