Shutdown at BESSY II: new supply technology ensures long-term operation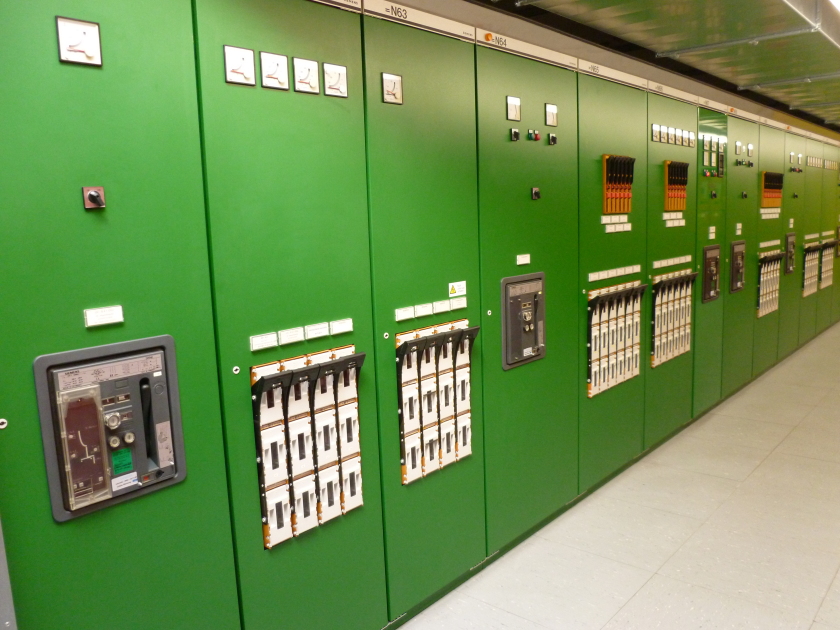 During the shutdown, the low voltage main distribution panel will be completely renewed (here in the picture: before the conversion). © HZB/A. Knoch
The X-ray source BESSY II is in a three-month period of shutdown. During this period, the low voltage main distribution panel in the supply building outside the electron storage ring is being renovated. This will secure the long-term operation of BESSY II over the next decade.
"The feeder cubicles for the power supply of the BESSY II machine are key to its reliable operation," relates the responsible project manager Andreas Knoch from Technical Services (FM-T). The equipment section of the low voltage main distribution board comprises 36 control panels. They provide electricity to important components for operating the accelerator facility. These include, among other things, power supply units, magnets, high frequency systems, vacuum systems, climate control, osmosis water systems and IT systems.
"We need to replace the respective switchgear one-to-one, since there are no substitutes for the important components due to their age. The control cabinets will be equipped with components similar to the existing ones, except with adapted elements and additionally universal meters, active arc protection and new data bus technology in all outputs," Knoch adds. Furthermore, new chillers will be installed during the shutdown. These will ensure the climate control in the electron storage ring runs reliably.
The interrelated work during the shutdown is being coordinated by Ingo Müller together with Christian Jung. The three months of "darkness" will therefore be used for other tasks as well: among others, for example, construction is continuing for the new experimental stations of the "BElChem" lab. In this joint project, the Max Planck Society and HZB are setting up new experimental capabilities at BESSY II for analysing material systems for electrochemical and catalytic applications. This work will continue even after the summer shutdown has ended.
Even if the shutdown were to continue into August, the interruption is the best alternative in which the least amount of measurement time is lost. "After all, all of our measures are aimed at one thing: that BESSY II will be available to our users stably and without unplanned interruptions," says Christian Jung.
BESSY II will be started up again from 8 August 2022. Three weeks after that, on 30 August, HZB will once again be welcoming its users to the BESSY II beamlines.