Long night of Sciences at HZB: Experience science up close!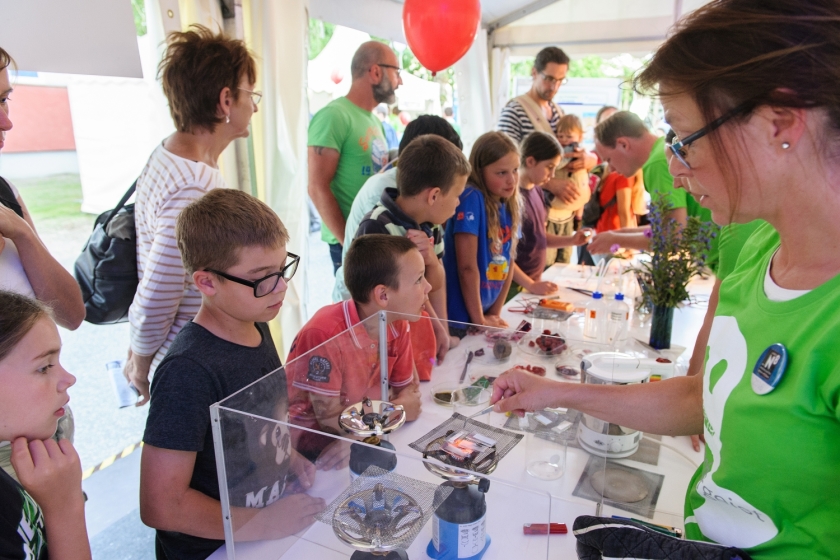 Can you make solar cells from fruit tea? You can find out how at the Long Night of the Sciences. © HZB/P. Dera
Important info: At the HZB, FFP2 masks are mandatory indoors from the age of 14 during this event.
How can solar cells be produced even more efficiently? Why is "green" hydrogen so important for our future? Why does Berlin need an accelerator to screen materials? The answers are available at the Long Night of the Sciences. On July 2, 2022, 5 p.m. to midnight, HZB opens its doors at the Adlershof site and invites young and old to experiment.
Our researchers will discover new energy materials and develop technologies for a climate-neutral energy supply - a topic that is more topical than ever. Ask us what you always wanted to know about renewable energy. There will be opportunities to do so at the booths or at the lectures on the "Road of Energy" (located at Kekuléstraße) as well as at the panel discussion "No energy transition without hydrogen" at 7 pm in the BESSY lecture hall. We are looking forward to the dialog with you!
We cordially invite you to visit our electron accelerator BESSY II. It provides intense light to develop new solar cells, batteries or catalysts. On a tour through the accelerator you will find out why electrons race in circles at almost the speed of light. Children can participate in a scavenger hunt through the accelerator or experiment in the school lab.
About 100 meters away, at our location in Kekuléstraße 5, photovoltaics experts are setting up an outdoor energy street. There you can experience what working in the lab is like. Among other things, you can build your own solar cells from toothpaste and fruit tea or come to the "Temple of Solar Cells".
Programme
Further information and the exact times of the programme offers mentioned here can be found on our website:
Please bring an FFP2 mask for your visit to HZB. Due to the pandemic and construction measures, the number of visitors in the BESSY building will be limited. We ask for your understanding if there are waiting times in front of the building. Thank you very much!