Structure of the month - March 2007
Phytochemistry, Vol. 67, November 2006, Pages 2332-2340
The crystal structure of Arabidopsis thaliana RAC7: A RAS superfamily GTPase from the plant kingdom
Christopher G. Sørmo1, Ingar Leiros2, Tore Brembu1, Per Winge1, Vibeke Os2 and Atle M. Bones1,*
1 Department of Biology, Cell & Molecular Biology Group, Norwegian University of Science and Technology, N-7491 Trondheim, Norway
2 Norwegian Structural Biology Centre, University of Tromsø, N-9037 Tromsø, Norway
*Correspondence: Dr. Atle Magnar Bones atle.bones@bio.ntnu.no
Abstract
Small (20-40 kD) monomer GTPases belonging to the RAS superfamily regulate diverse pivotal cellular processes in all eukaryotic organisms ranging from primitive protists to humans. These proteins act as molecular switches that activate downstream effectors when bound to a GTP nucleotide and become inactivated when GTP is hydrolyzed to GDP.
Arabidopsis thaliana RAC-like GTPases constitute a plant specific Rho GTPase family within the RAS superfamily. They have been implicated in numerous important signal cascades in plants such as hormone responses, cell growth and differentiation, pathogen defence and stress responses.
The AtRAC7-GDP structure was determined to a resolution of 1.78 Å at the macromolecular crystallography beamline BL14.1 at BESSY (Table 1). The final model (pdb acc #: 2j0v) shows four AtRAC7 molecules in the asymmetric unit, organized into two dimers (Fig 1).
The crystal structure shows that plant Rho GTPases is based upon an evolutionary conserved G-domain architecture α/β fold) (Fig 2). Differences in structure were found in the insert and switch II region of the protein. Especially the switch II of AtRAC7 is more flexible and shows no helical conformation in this region compared to human counterparts. An invariant serine residue (Ser68) in AtRAC7 and homologues may prevent the formation of a stable secondary structure in switch II. Specific interaction with effectors and regulators of small GTPases is achieved through nucleotide induced changes in both switches I and II. This increased flexibility could therefore indicate that AtRAC7 have evolved to facilitate specific interaction with possibly novel plant proteins.
Reference
Phytochemistry, Vol. 67, Issue 21, November 2006, Pages 2332-2340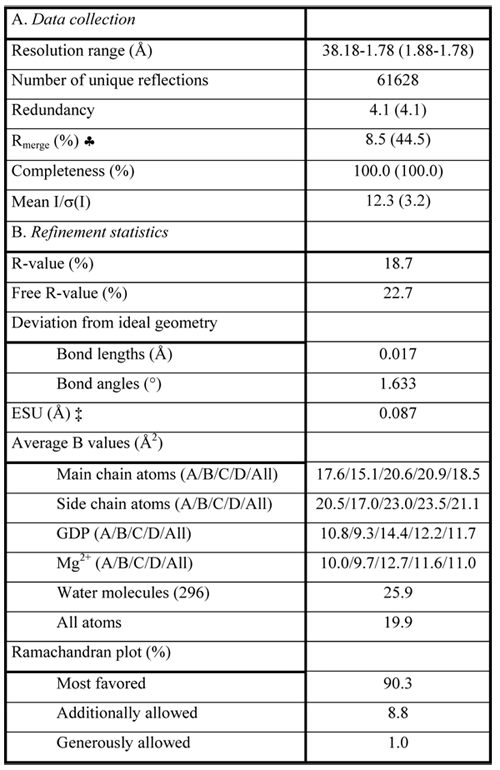 Table 1. X-ray data collection and refinement statistics.
Numbers in parenthesis are for the resolution shell 1.88–1.78 Å.
♣Rmerge=(∑h∑i|Ii(h)-I(h)>|)/(∑h∑iI(h)), where Ii(h) is the ith measurement of reflection h and I(h)> is the weighted mean of all measurements of h.
‡ Estimated overall coordinate error from REFMAC5 based on maximum likelihood.